Are you a fan of chocolate? If so, these fun chocolate quotes are right up your street. From cute sayings about chocolate to short chocolate quotes, these phrases are as hard to resist as the confectionery itself!
Best Chocolate Quotes
Chocolate never lets us down and always improves our mood. Popular since the time of the Aztecs, chocolate was consumed all over the world by the late 19th century.
These quotes about chocolate celebrate our love of the sweet stuff. They're arranged in sections so that you can easily find the best chocolate quote for your purposes.
Cool Chocolate Quotes
One of the most famous chocolate quotes is from the movie Forrest Gump, but there are plenty of other cool chocolate sayings here.
1. As long as there is chocolate, there will be happiness.
Wayne Gerard Trotman
2. Chemically speaking, chocolate really is the world's perfect food.
Michael Levine
3. Chocolate says I'm sorry so much better than words.
Rachel Vincent
4. Everywhere in the world there are tensions – economic, political, religious. So we need chocolate.
Alain Ducasse
5. There are four basic food groups: milk chocolate, dark chocolate, white chocolate, and chocolate truffles.
Anonymous
6. Life is like a box of chocolates. You never know what you're gonna get.
Tom Hanks in Forrest Gump
7. Reminiscent of childhood memories, luxury, sweetness and sensuality, chocolate is more than just a food – it is therapy.
Christelle Le Ru
8. Chocolate symbolizes, as does no other food, luxury, comfort, sensuality, gratification, and love.
Karl Petzke
9. There is a simple memory aid that you can use to determine whether it is the correct time to order chocolate dishes; Any month whose name contains the letter A, E, or U is the proper time for chocolate.
Sandra Boynton
10. When it comes to chocolate, resistance is futile.
Regina Brett
11. Life is like chocolate: you should enjoy it piece for piece and let it slowly melt on your tongue.
Nina Sandmann
12. There is nothing better than a friend unless it is a friend with chocolate.
Linda Grayson
13. When we don't have the words chocolate can speak volumes.
Joan Bauer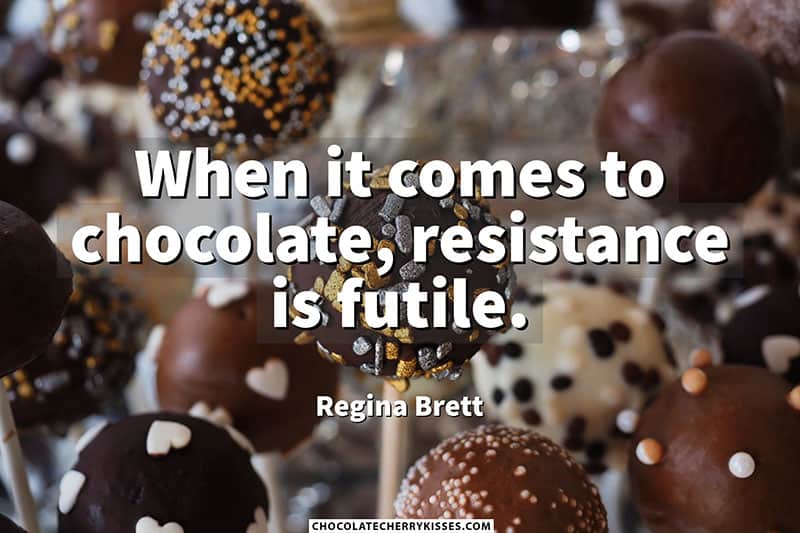 Chocolate Love Quotes
Chocolate and love go hand in hand – if you want to get on your loved one's good side, feed them a steady supply of confectionery! In fact, a study by the Journal of Social and Personal Relationships found that eating sweet treats can lead to heightened romantic interest.
14. After about 20 years of marriage, I'm finally starting to scratch the surface of that one [what women want]. And I think the answer lies somewhere between conversation and chocolate.
Mel Gibson
15. All you need is love. But a little chocolate now and then doesn't hurt.
Charles M. Schulz
16. Besides chocolate you're my favorite.
Anonymous
17. Biochemically, love is just like eating large amounts of chocolate.
John Milton
18. Don't think that chocolate is a substitute for love! Love is a substitute for chocolate.
Miranda Ingram
19. I love you more than chocolate.
Anonymous
20. Love is like swallowing hot chocolate before it has cooled off. It takes you by surprise at first, but keeps you warm for a long time.
Henri Frederic Amiel
21. Moderation, honey, in all things but love and chocolate. That's my motto.
Barbara Bretton
22. My weakness was chocolate but now it's you.
Anonymous
23. Nothing is more romantic than chocolate.
Ted Allen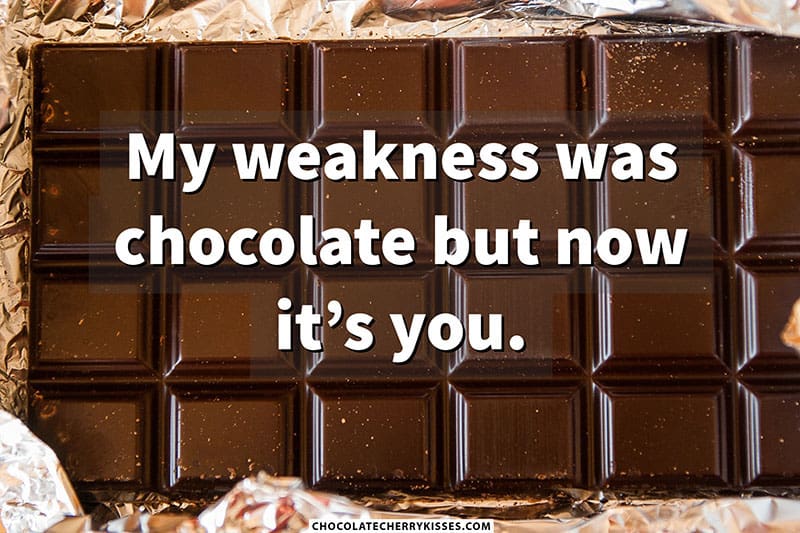 Funny Chocolate Quotes
These humorous chocolate quotes will have you laughing all the way to the fridge!
24. Dear Diamond, we all know who is really a girl's best friend. Sincerely yours, Chocolate.
Anonymous
25. Strength is the capacity to break a chocolate bar into four pieces with your bare hands – and then eat just one of the pieces.
Judith Viorst
26. A balanced diet is chocolate in both hands.
Anonymous
27. What you see before you, my friend, is the result of a lifetime of chocolate.
Katharine Hepburn
28. Chocolate comes from cocoa, which is a tree that makes it a plant. Chocolate is salad.
Anonymous
29. I'm pretty sure that eating chocolate keeps wrinkles away because I have never seen a 10 year old with a Hershey bar and crows feet.
Amy Neftzger
30. Chocolate is nature's way of making up for Monday's.
Anonymous
31. Exercise is a dirty word… Every time I hear it, I wash my mouth out with chocolate.
Charles M. Schultz
32. Money can't buy happiness. But, it can buy a chocolate, which is pretty much the same thing.
Hanako Ishii
33. Forget love…I'd rather fall in chocolate!
Anonymous
34. Chocolate is an antidepressant, which is especially useful as you start to gain weight.
Jason Love
35. My soul's had enough chicken soup. Now it wants chocolate!
Anonymous
36. If there's no chocolate in Heaven, I'm not going.
Jane Seabrook
37. The 12-step chocolate program: NEVER BE MORE THAN 12 STEPS AWAY FROM CHOCOLATE!
Terry Moore
38. Nine out of ten people like chocolate. The tenth person always lies.
Anonymous
39. Chocolate is cheaper than therapy and you don't need an appointment.
Catherine Aitken
40. Put "eat chocolate" at the top of your list of things to do today. That way, at least you'll get one thing done.
Anonymous
41. Strength is the capacity to break a Hershey bar into four pieces with your bare hands – and then eat just one of the pieces.
Judith Viorst
42. The greatest tragedies were written by the Greeks and Shakespeare … neither knew chocolate.
Sandra Boynton
Short Chocolate Quotes
Sometimes you just need a short chocolate quote – it leaves you more time to eat the good stuff!
43. Chocolate makes the world go round.
Anonymous
44. Look, there's no metaphysics on earth like chocolate.
Fernando Pessoa
45. If chocolate is the answer….the question is irrelevant.
Kim Knott
46. Chocolate: the poor man's champagne.
Daniel Worona
47. I never met a chocolate I didn't like.
Deanna Troi
48. Chocolate is happiness that you can eat.
Ursula Kohaupt
49. I could give up chocolate but I'm not a quitter.
Anonymous
50. Chocolate should be savored, not rushed.
Rick Riordan
51. Life happens, chocolate helps.
Anonymous
52. Chocolate is ground from the beans of happiness.
Terri Guillemets
53. Hot chocolate is like a hug from the inside.
Anonymous
54. Man cannot live on chocolate alone; but woman sure can.
Anonymous
55. Chocolate is a gift of love to yourself.
Sonja Blumenthal
56. When no one understands you, chocolate is there.
Daniel Worona
Famous Quotes About Chocolate
57. Don't wreck a sublime chocolate experience by feeling guilty.
Lora Brody
58. Chocolate is the first luxury. It has so many things wrapped up in it: deliciousness in the moment, childhood memories, and that grin-inducing feeling of getting a reward for being good.
Mariska Hargitay
59. Chocolate is a perfect food, as wholesome as it is delicious, a beneficent restorer of exhausted power…it is the best friend of those engaged in literary pursuits.
Justus von Liebig
60. A little too much chocolate is just about right.
61. My therapist told me the way to achieve inner peace is to finish what I start. So far I've finished two bags of M&Ms and a chocolate cake. I feel better already.
Dave Barry
Like Water For Chocolate Quotes
If you're a fan of the Mexican novel and movie, these quotes will be right up your street! They're not all quotes about chocolate but they are all food quotes.
62. Tita was literally "like water for chocolate" – she was on the verge of boiling over. How irritable she was!
63. With a little imagination and a full heart one can always prepare a decent meal.
64. When the talk turns to eating…only fools and sick men don't give it the attention it deserves.
65. For Tita the joy of living was wrapped up in the delights of food.
You might also enjoy:
Like these chocolate quotes? Pin for later or share with friends.
This article may contain affiliate links.